Are you ready for this?!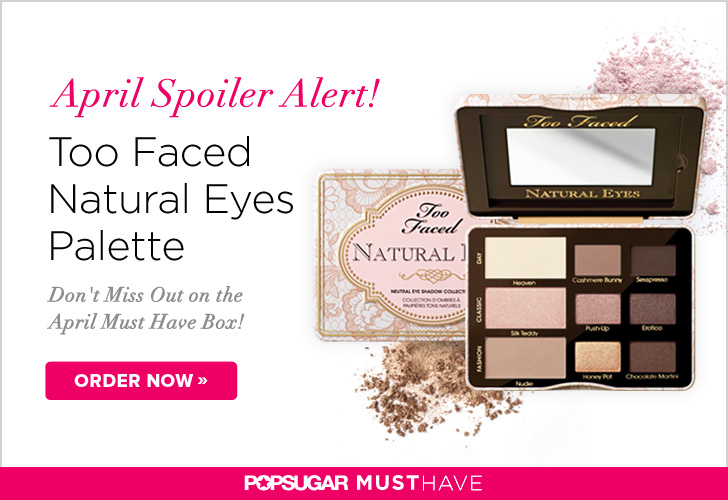 Its a Too Faced Natural Eyes Palette!! That's a $36 value! Does this make you want to sign up again!? It makes me want to. Im about to head over to Popsugar and do it right now!


"Flaunt your natural side with a look that appears so effortless you can wear it before breakfast or after dark. Natural Eyes is a palette of nine richly-pigmented shadows that pair perfectly and blend beautifully."


We'll also receive a how-to Glamour Guide to step up both day and night looks.


Just got a couple more spoilerish hints! POPSUGAR's Must Have Box includes a curated collection of editors top picks, featuring full sized premium items in beauty, fashion, food, and more.
This April box includes spring essentials such as:
Blueavocado Shopper Reusable Bag,
Too Faced Natural Eyes Palette,
Fresh Pastry Stand Tea Towel Set,
Graphic Image Pocket Notes, and
Caldrea Rosewater Driftwood Hand Soap.


The Cost: It is $39.99/mo and free shipping. If you'd like to know more or sign up, head over to their website.

BUT there is an AMAZING coupon code!!! You can get this box for $19.97 by using the code: CHANNEL7 I don't know how long its good for so get on it!!


What You'll Get: The Popsugar MustHave box is dedicated to beauty, home, fashion, fitness with a little food tossed in. They send full-size products and premium items (like scarves and eye palettes!! yeah!).


Sign up here to get the April box with your new Too Faced Natural Eyes Palette!