Glossybox
made it in time for Independence Day!! While this one didn't make it to me in June, I'm glad it finally got here. I totally love the box and I'm going to find something amazing to use it for. I love my Glossyboxes. :)
The Cost
: $21/month. You can still
use the code HAIR
to get a big bottle of Nioxin Diamax!
What You Get
: Five luxury, deluxe samples and full size products in a keepsake box.
Ayres Patagonia Body Butter
- An all-natural formula enriched with herbal extracts and vitamins. This has a fragrance fusion of jasmine, rosemary, lavender, bergamot and fir essential oils.
Full Size Value: $ $28/6.75oz
Size Included: 1oz
Sumita Beauty Eyeshadow Pencil in Champagne
- A universally flattering golden shade offers a hint of shimmer to accent any eye color. Use as a highlight or apply to your entire eyelid. This silky pencil eyeshadow won't smudge or smear.
Full Size Value: $18/.08oz
Size Included: Full Size
Strange Beautiful Nail Polish Duo-
I don't have a straight up red polish yet so I'm glad I got this. I need to think of a fun way to do my nails for the 4th of July. These are mini polishes so they're pretty small but that's okay. I don't think I've ever reached the bottom of a nail polish bottle.
Full Size Value:$18/2x.15 fl oz
Size Included: 4mlx2
Camille Beckman Platinume Gole Imperial Repair Hand Therapy
- A dye-free and gluten-free citrus-scented hand cream provides hydration and restoration for your hands. Comprised of botanicals including sweet almond oil, grapeseed oil and the brands signature herbal complex. I wonder if that means there is lavender somewhere in there. I've never heard of this brand but that doesn't really mean anything.
Full Size Value: $10/1.35oz
Size Included: Full Size
Rusk Texture Dry Finishing Spray in Medium Hold
- A talc free dry styling spray that adds texture, shape and grip for an instant boost on hot summer nights. No white flakes or residue!
Full Size Value: $18/8oz
Size Included: 1.5oz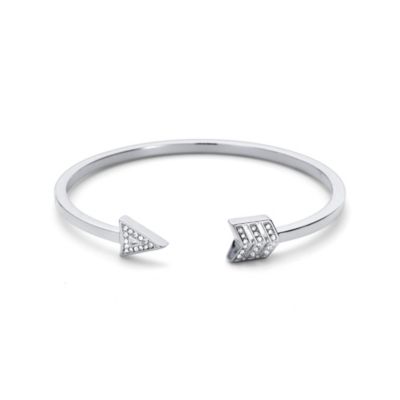 I also received a
$25 CWonder Gift Card
(which I took a very blurry picture of so I'm not posting it)! I didn't know this was part of the box and I don't remember anyone else mentioning it but maybe I didnt look hard enough. CWonder was the brand of bracelet that was in the Nina Garcia Quarterly.co box (#NGQ02)! I loved that bracelet except it was gold and I don't wear gold. So with the gift certificate I bought the same bracelet but in silver!
How cool is that!? I did end up having to pay an exorbitant $9.50 in shipping but I think thats worth it for a sterling silver bracelet!
VERDICT
: Another good
Glossybox
! I'll use everything except the Ayres Body Butter because it has lavender in it. The CWonder Gift Card was pretty unreal and totally unexpected! It's worth more than the price of the box and I was able to buy something that I actually did want! So cool!
While the brands in this box cannot match last months, I really don't think anything ever will again. That was pretty amazing! So I tried really hard not to judge this box by last months.
If you would like to sign up for
Glossybox
, you can do so right here! I've found some of my most favorite items in Glossyboxes so I'm pretty partial to them.
Did you get your
Glossybox
yet? What did you think of what was included? Have you ever heard of Camille Beckman brand?
*affiliate links were used in the making of this post