Urthbox is on Living Social
! Get the Small Box for $17 in your choice of Diet, Vegan, Gluten-Free or Classic
Urthbox
is a box of all-natural, non-GMO treats that'll wait at your doorstep each month -- a box packed with surprises like trail mix, baked chips, and beverages. UrthBox makes it easy to snack healthier:
You can read my Urthbox Review here
!
Escape Monthly is on Living Social
!
Get a one month subscription for $29!
If you sign up immediately, before the 15th, you will get the PARIS box!!
After the 15th, you'll get the Caribbean Paradise of Puerto Rico! :)
This box is expensive at $50/mo but with this deal it's worth it!
You can read my Las Vegas review here!
I got the Escape Monthly deal and signed up for Paris!
You can see the first Paris spoiler here
.
Use code
EXTRA10
to get an extra 10% off the Escape Monthly or Urthbox deal. If you've used this coupon previously on Living Social it won't work but otherwise make sure you use it! You might also be able use code: 15BACK and get 15% off until 8.17.
Groupon is also having a deal on
PetBox
!
Choose from Three Options:
$19.99 for a 1-month subscription ($29.99 value)
$59.99 for a 3-month subscription plus 300 pet points ($105 value)
$199.99 for a 12-month subscription plus 1,200 pet points ($411.96 value)
I got the one year plan. This is for a box with up to 5 items for either your dog or cat! And if you get one of the plans with extra Pet Points, you can use those points to "buy" extra treats and toys of your choice to put in the box for that month!
If you have a cat, this is the box for you!
You can read my first Petbox review here
. Price and item wise, it's on par with Barkbox but I'm guessing there might be a little more variety. We will see! We will be getting both boxes from now on and it'll be interesting to see how they shape up next to eachother. So far I'm VERY happy with both!
Also on Groupon is... Barkbox
!!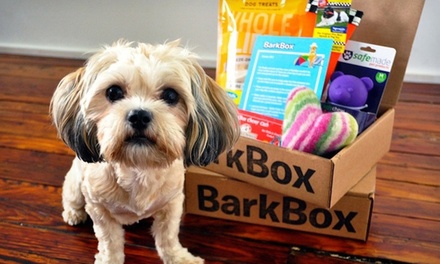 Choose Between Two Options:
$42.50 for a three-month subscription ($72 value)
$79.99 for a six-month subscription ($114 value)
You'll get between 4-6 items a month, right to your door! If you just want to try out a dog box, this is a better deal.
Check it out!
*affiliate links were used in this post